We have been cheated and fooled: Dons
Posted by Editor on November 25, 2011 - 8:19 am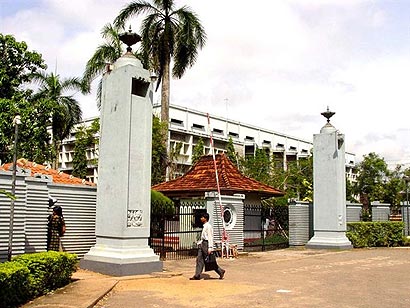 The Federation of University Teachers Association (FUTA) said yesterday it would write to President Mahinda Rajapaksa and Higher Education Minister S.B. Dissanayake on the government's failure to fulfill its promises by increasing teachers' salaries and investments in higher education through the 2012 budget.
"We have been cheated and fooled. It is irresponsible for the government to treat the academic community in this way," FUTA President Nirmal Dewasiri said. He said FUTA would take trade union action and hold discussions with all the universities in the country on the next step.
Dr. Dewasiri said according to the understanding reached between the government and FUTA, the basic salary of university academics was to be increased by 20 per cent from January 1, 2012.
The government also agreed to extend the housing loan scheme introduced for public servants to university academics as well and to increase the rates for various services provided by university academics.
"FUTA also requested amendments to be made to the University Act — to do away with the various poorly thought out training programmes for university students being carried out without the approval of the faculty boards and senate boards, spending the resources allocated for higher education for training programmes outside the university, forcing universities to hire security services from two extremely expensive security firms, in which high ranking government officials have vested interests," Dr. Dewasiri said
FUTA called off its trade union action which began in May this year after President Rajapaksa assured that their requests would be fulfilled. "At the time the government said it would implement the proposals submitted by FUTA in stages during 2012 and 2013," he said.
"We are displeased with the government. Assurances it gave us have turned out to be false. It does not talk about reducing the number of ministers or their salaries and cars provided to them or the massive expenditure that was to be spent on the 2018 Commonwealth games. It does not consider the funding for education. This is a far bigger problem than just receiving an increase in salaries. The education sector has a direct impact on the economic performance of the country," Dr. Devasiri said.
FUTA Vice President Ananda Jayawickrama said though it was believed that some 2.9 per cent was spent on education, last year's statistics showed that investment in education had been in the region of 1.5 per cent which is less than adequate for the education system to function.
"The government says Sri Lanka's economy is knowledge-based and it will move the country forward but unfortunately we do not see this happening," Dr. Jayawickrama said.
Courtesy: DM Online
Latest Headlines in Sri Lanka