When I don't score, people think my attitude is wrong – Mathews
Posted by Editor on December 17, 2017 - 7:47 am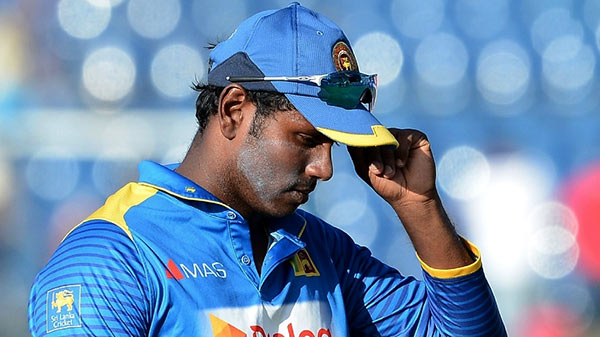 Former captain Angelo Mathews has been Sri Lanka's best batsman on this tour having notched up two hundreds so far. The 30-year-old in an interview with 'Sunday Island' spoke about the technical adjustments he has done to his game and the misconception among people that his attitude is wrong when he goes through a lean patch.
Mathews, who stepped down as captain in July, posted an unbeaten hundred in Mohali on Wednesday which was perhaps the only plus point in Sri Lanka's huge 141-run loss.
"I have been working very hard with Thilan (Samaraweera, the batting coach) and credit should go to him for reminding me a few things that I have been doing earlier on in my career. I have made a few adjustments and things are starting to work. I am glad that it is going well. Hopefully, I can continue like this," Mathews told 'Sunday Island'.
Mathews had a prolific 2014 and he was world's second highest run-getter that year behind Kumar Sangakkara. Although he had a decent 2015, since then things have gone downhill before he came up with a fighting hundred in Delhi in the third Test match.
"I sat with Thilan and we figured out that since 2015, I have been doing certain things wrong. That is an adjustment that I had to make ahead of the Test match in Delhi. I have been doing that unwillingly. Thilan spotted it and we looked at a few videos and we sorted it out," Mathews explained.
What exactly was he doing wrong?
"I was putting my weight a little more on my front foot. Once you do that, your movement is limited. Now I am staying balanced from the crease. That adjustment is paying off," Mathews noted.
Most Sri Lankan batsmen on this tour –with the exception of maybe Niroshan Dickwella- have stayed away from playing the sweep shot. Mathews explained why. "It all depends on the wicket. I scored two hundreds against India in 2015 and I swept quite a lot on that instance. When the wicket is turning, you have to sweep. In ODIs, you have to have an open mind about scoring against the spinners. If you see an opportunity to score runs, you have got to grab it. There's no point of stopping a shot. It's all about playing it better. Chandika Hathurusingha spoke a lot about it when I was with him in the 'A' team. I haven't stopped the sweep shot. It was not necessary for me to sweep as the ball wasn't turning in the last few games."
Mathews was part of the Sri Lanka 'A' squad that toured South Africa with Hathurusinghasome time ago and they won a one-day series 4-1. "He is a guy who will back you to the hilt. Then, if he needs to tell something, he will be very frank. He will not use other means to get a message across. Man management skills of Hathu are amazing. A player will feel that he is being backed. That is what you need from a coach -the assurance that your coach is backing you to the core."
The last two years have been tough ones for the 30-year-old, but he said that his work ethic, whether he was scoring runs or not, has remained pretty high. "We all go through our highs and lows. My attitude has always been the same. People might say, when I am not scoring, that my attitude is not good. Maybe our own people might find these excuses. But that's not the case. That is what they think. My thinking is that if I am honest with myself, I don't have to worry about what others think of me. When you are scoring runs, people will say that your attitude has changed. As for me, my attitude has always been the same. I work extremely hard on my game."
Mathews has started bowling again and he came up with a superb spell in Dharamsala, where his five overs just cost eight runs. Even in Mohali, his four overs cost only nine runs but surprisingly he wasn't called up for a second spell when Rohit Sharma was going berserk.
"I can bowl up to seven overs. Whether I get used to or not, it is up to the captain. We have worked really hard at the nets before the ODIs on how I can bowl six or seven overs. Hopefully, I can bowl the ten overs by the time we get to the next series."
This year Mathews has missed out on quite a bit of cricket ever since returning home from South Africa in January. "I had a few injuries. I tore my hamstring in South Africa. I had a few calf issues as well. So I just need to manage my calf and hamstring. Credit to the selectors and the team management for understanding my injuries. Playing all three formats and bowling in all three formats is not easy. It takes a toll on my body."
Sri Lanka seem to be finally filling the void created by retirements of some senior cricketers as both Dinesh Chandimal and Dimuth Karunaratne stepped into the roles as senior batsmen this year. Both batsmen went on to post more than 1,000 runs in Tests in 2017. "Eventually we are getting things sorted out. The guys like Mahela, Sanga, Thilan and Dilshan, when they left, created a massive void and some of the guys are standing up for the challenge now. We had to go out there and fight it out."
(Source: The Island – By Rex Clementine)
Latest Headlines in Sri Lanka