Why invite Mahinda Rajapaksa, asks J Jayalalithaa
Posted by Editor on May 23, 2014 - 7:54 am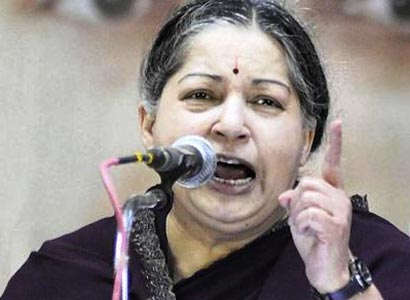 Chennai: Chief minister J. Jayalalithaa has termed as 'unfortunate' the invitation by Prime Minister designate Narendra Modi to Sri Lankan President Mahinda Rajapaksa to attend his swearing-in ceremony and said it was "tantamount to rubbing salt into the wounds of the already deeply injured Tamil psyche."
A staunch critic of the Rajapaksa government for its excesses during the final phases of the Eelam war and denial of rights to the Tamils in the island nation, Ms Jayalalithaa said she wished to bring to the notice of the new government the "deep anguish" caused by the invitation. "Particularly, with regard to the relationship of the new Central Government with the Government of Tamil Nadu, it would have been better if this ill-advised move had been avoided", she said, hinting at the strain that the Rajapaksa visit could cause to her ties with Modi.
Noting with dismay that Rajapaksa had accepted Modi's invitation, the AIADMK supremo said in a statement here that the sentiments of Tamils, living in India and abroad, were well known on the Lankan issue. A change of regime at Delhi "in no way alters the existing strained relations between Tamil Nadu and Sri Lanka." She recalled the various resolutions passed in the state Assembly demanding economic embargo on Sri Lanka and investigation of its war crimes. While the UPA Govrnment "chose to ignore" the resolutions, there was now hope that the new government would be "sympathetic to the cause of Tamils and friendly to the State of Tamil Nadu", she said.
However, this "unfortunate move" of inviting Rajapaksa "has deeply upset the people of Tamil Nadu and wounded their sentiments all over again. This is tantamount to rubbing salt into the wounds of the already deeply injured Tamil psyche," Ms Jayalalithaa said. Her statement came within hours of the BJP's state unit announcing she had been invited for the swearing-in ceremony. Now there could be serious doubts whether she would attend it. Modi had attended Jayalalithaa's swearing-in as chief minister in 2011 and she had reciprocated by her presence when he took oath as Gujarat CM at Gandhinagar the following year.
(Source: Deccan Chronicle)
Latest Headlines in Sri Lanka