Wimal Weerawansa urges boycott of US products
Posted by Editor on March 14, 2012 - 10:55 am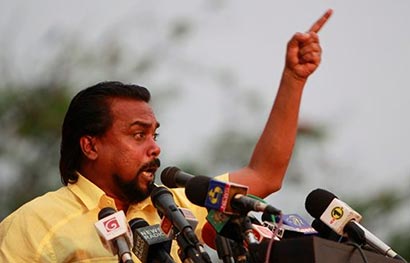 Minister Wimal Weerawansa has urged Sri Lankans to boycott American products because the US-sponsored resolution on the island at the UNHRC would encourage separatism.
He was speaking yesterday (Mar. 13) at a rally against the resolution tabled at the UNHRC session in Geneva.
Mr. Weerawansa said the resolution would be destructive to the postwar atmosphere.
"Instead of promoting ethnic reconciliation, it will hamper that process and would increase acrimony and rancor among the communities," he said.
"If we submit to this resolution, Tiger terrorists will raise their head again."
He called on people to boycott American brands such as Coca-Cola, Pepsi, KFC, McDonalds and Google's email service Gmail.
"We must show our protest even in a small manner to US for the ill-treatment they are throwing at us," Mr. Weerawansa added.
Courtesy: SL Mirror
Latest Headlines in Sri Lanka