Reconcile to avoid renewed conflict – Blake warns Lanka
Posted by Editor on March 14, 2012 - 7:42 am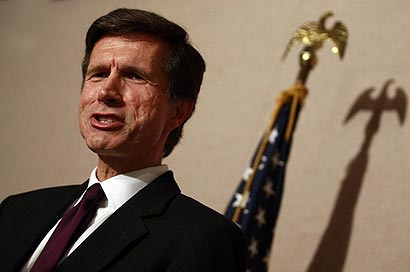 The U.S. warned Tuesday that Sri Lanka risks renewed conflict unless it addresses war crimes allegations, while rights groups alleged that abuses by security forces continue, three years after fighting against Tamil rebels ended.
Sri Lanka has reacted angrily to the growing international pressure to account for thousands of civilians suspected to have died in the final months of the quarter-century-long war, when government forces finally crushed the separatist Tamil Tigers.
A new documentary by Britain's Channel 4 television that screens Wednesday alleges that several war crimes suspects are now in senior government posts. It also details an alleged attack on a U.N. food distribution station by government forces, shelling of a "no-fire zone" intended as a refuge for Tamil civilians, and contends that the Tamil Tiger leader Velupillai Prabhakaran's 12-year-old son was executed.
Sri Lanka has dismissed the documentary as influenced by Tamil Tiger sympathizers, and a draft resolution introduced by the U.S. to the U.N. Human Rights Council as an interference in its affairs. The government has organized protests at home against the resolution, and a Cabinet minister has called for a boycott of U.S. products.
The 47-nation U.N. rights body in Geneva is expected to vote next week on the resolution that calls on Sri Lanka to investigate allegations of human rights abuses by both the government troops and Tamil Tiger rebels in the final months of the war in 2009, and implement the recommendations of its own reconciliation panel.
A U.N panel of experts reported in 2011 that tens of thousands of people may have been killed in those months, largely through shell fire by the government troops. The Tigers were accused of using civilians as human shields and shooting those who tried to escape.
In Washington, Robert Blake, U.S. assistant secretary of state for South and Central Asia, said that accountability and reconciliation were in Sri Lanka's best interests, so "they really can achieve peace and security and not sow anger in their own community that could give rise to new violence."
"Experience in many civil conflicts around the world has shown that countries that don't take adequate measures to address reconciliation and accountability frequently experience a regeneration of the insurgency that they faced," he told The Associated Press. "We could see very much that similar situation in Sri Lanka."
He said that since the war ended, the government has done a lot to build roads and infrastructure in the north of the island where the Tigers had fought for a separate state, independent of the ethnic Sinhalese majority. But he said many Tamils in the north feel they remain under "military occupation." He called for provincial elections to devolve power, and for Tamils to take more control of policing the region.
Sri Lanka, however, says the U.S.-backed resolution will only undermine its reconciliation efforts and fuel conflict. In Colombo on Tuesday, Housing Minister Wimal Weerawansa said the resolution would encourage separatism and terrorism by the Tamil Tigers.
"If one is genuinely interested in Sri Lanka, it's important to understand the ground reality and to give time and space for reconciliation," a government spokesman, Bandula Jayasekara, said in an email to AP.
Rights activists say Sri Lanka's homegrown efforts at accountability have so far fallen far short of international standards. And in a report launched in Geneva on Tuesday — rejected by the government as misinformation — Amnesty International said dozens of people in Sri Lanka have been abducted and tortured by security forces since 2009, and hundreds are being held in illegal detention. Among those detained are suspected Tamil Tigers, but also lawyers, journalists and human rights activists, said Sam Zarifi, Amnesty's Asia-Pacific director.
He said the lack of accountability for severe rights violations "has sent a very clear signal to security forces throughout Sri Lanka that they can get away with abduction, torture, even murder, without having to fear that they will have to suffer any consequences for it."
Additionally, rights activists have accused Sri Lanka of trying to intimidate Sri Lankan civil society representatives in Geneva. In an unusual move, the U.N. Human Rights Council's president, Laura Dupuy Lasserre, voiced concern over unauthorized photographing and videoing of activists. Sri Lanka responded that those concerns were "pure conjecture" circulated by people with a political agenda.
Eileen Donahoe, U.S. ambassador to the council, said Sri Lanka had reacted "very negatively" to the resolution and has fought it "tooth and nail" but she expected it to pass.
She said the resolution has been toned down from an earlier version that sought a government action plan on accountability and reconciliation by June. It now calls for the U.N. Human Rights Commissioner to report to the council a year from now on the steps Sri Lanka has taken.
Sri Lanka enjoys considerable support in the U.N. rights body. Russia, China, Cuba and other Asian, African and Latin American countries are expected to vote against the resolution, AP reports.
Latest Headlines in Sri Lanka