Yet another escape attempt foiled, 28 Lankan refugees held
Posted by Editor on August 29, 2012 - 11:30 am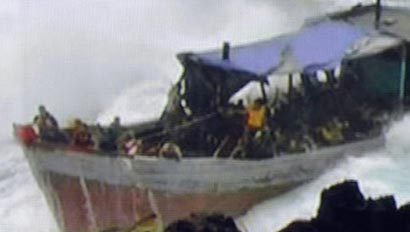 As many as 28 Sri Lankan refugees, trying to flee to Australia in a boat, were apprehended by the 'Q' branch police near Cuddalore port on Monday night.
Police interrogated them on Tuesday. A boat was also seized.
A total of 28 Lankan refugees from various camps in Tamil Nadu had gathered in Cuddalore to escape to Australia.
According to sources, some agents in Tamil Nadu had organised the trip after charging the refugees for it.
Of the 28, one refugee was from Tiruchy, six from Erode, one from Coimbatore, three from Pollachi, two from Mandapam, three were from Thiruvallur and the remaining were from other places.
Only 18 of the apprehended refugees had been properly registered in camps.
The refugees, all men, were in the 20-30 years age group. Police seized Rs 80,000 in cash from the refugees.
The agents, who had promised to have the men ferried across to Australia, reportedly got around Rs 1 lakh from each refugee for the trip.
Sources said the boat, in which the refugees were bound to travel, was sold to a resident of Cuddalore by a Puducherry man.
"Only after we find the boat owner can we divulge more details," police said. The boat reportedly had large stocks of food, water and diesel.
Talking about the escape bid, a source said, "Most Sri Lankan Tamils in Australia advise refugees to go there to lead more comfortable lives. Hence, some Lankan refugees in camps here try to go there by taking great risks. This is a dangerous and long trip. It will take at least over two weeks to reach Australia by this boat that was seized. Exceeding the boat's load capacity is also a very dangerous thing."
Police launched a search to arrest the kingpin and agents behind the 'escape plan'.
Sources said all the refugees were to be sent back to their camps through the tahsildar, after the police interrogation.
Source: New Indian Express
Latest Headlines in Sri Lanka