"Belated action by the SEC,'' says analysts
Posted by Editor on August 4, 2010 - 7:23 am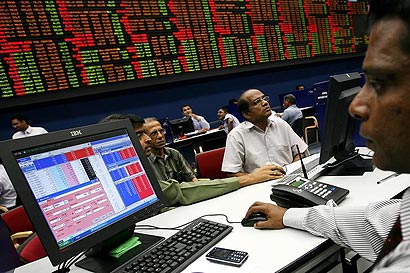 News Source: The Island – Pix by JDS
The Securities & Exchange Commission (SEC) yesterday cracked a whip imposing a trading halt on some of the most popular stocks traded on the Colombo bourse "until further notice" placing a pall of uncertainty over the Colombo share market.
Trades were imposed on Dankotuwa Porcelain, Blue Diamonds ( voting and non-voting), Environment Resources Investments (ERI) warrants of four maturities and Touchwood with the SEC attributing its action to "unusual increases in the price and the number of transactions of the said securities during the period from July 29 to August 2."
Analysts noted that the ERI share itself, which had also been heavily traded in large volumes posting sharp price gains, was not affected by the trade halt.
Many brokers and analysts felt that the SEC action had come too late with fortunes made on the high running shares, the price of which had gone through the roof in recent weeks and had been traded in very large quantities.
"Many brokers are likely to have settlement problems as clients who had bought these shares with the intention of selling them off taking a quick profit now being saddled with the shares, unable to sell," one analyst said.
Most brokers who had done nicely on the bull run were not able to comment on the extent of their liability saying that these had to be calculated.
"Some clients have the ability to pay while others don't and we will have to see where we stand," a broker said. "Where a share was sold, there was also a buyer and somebody is holding shares that can't be sold.''
The bull run on the CSE continued yesterday before the SEC directive came into force at 1.45 pm, 45 minutes before the market closed. Thereafter a downturn followed and market closed with the All Share Price Index down 26 points and the Milanka down 17 points on a turnover of Rs.4.1 billion, down from the previous day's Rs.6.03 billion.
Dankotuwa Porcelain was up Rs.3.25 to Rs.124 on 3.9 million shares done yesterday between Rs.90 and Rs.144 while Touchwood was up Rs.1.30 to close at Rs.39.80 on 9.5 million shares done between Rs.30 to Rs.39.80.
ERI lost Rs.23.50 to close at Rs.110 on nearly 3.3 million shares traded between Rs.104 and Rs.133.
The ERI warrants all lost – 02 down Rs.8.50 on nearly 1.8 million traded closing at Rs.70 on a trading range of Rs.60 to Rs.83; 06 warrants down Rs.8.75 to Rs.66 on nearly 1.6 million done between Rs.58 and Rs.79.20 while 03 warrants were down Rs.9.85 to Rs.65.40 on nearly 1.5 million traded.
Ceylon Leather Products of the ERI group lost Rs.21.90 to close at Rs.246.10 on nearly 0.3 million shares.
The electronic trading system on the CSE went haywire with websites reporting buyers above sellers with some brokers saying the whole system was jammed.
Latest Headlines in Sri Lanka