Better UNP reveals the truth to country without further lying – Anura Kumara
Posted by Editor on February 21, 2010 - 12:15 pm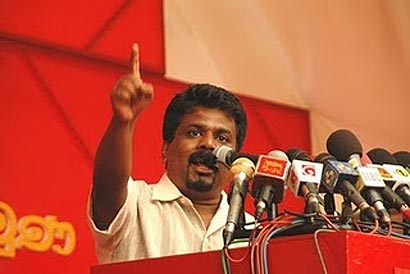 Source: Lanka e news
Former JVP Parliamentarian Anura Kumara Dissanayake told Lanka e News today (21) that, UNP Gen. Sercretary Tissa Attanayake's statement at the media discussion yesterday (20) that the UNP is awaiting a reply from Gen. Fonseka to decide on contesting the Gen. elections as an alliance with them is an absolute lie.
The UNP has not made any notification about contesting under the swan symbol to the General. It is to ward off the criticisms which are being leveled from the society and to fasten the blame to others, they are making such utterances, he added.
What the UNP ought to have done at this juncture is to expeditiously announce to the people whether it is contesting under the swan or elephant symbol, instead of stating that they are awaiting replies which are not forthcoming. It was the General's singular ambition that all opposition parties who jointly supported him at the Presidential elections once again steer forward as a single alliance as before, for the General elections along with more parties who are prepared to join, he pointed out.
Latest Headlines in Sri Lanka