Bollywood actor Shammi Kapoor dies, aged 79
Posted by Editor on August 15, 2011 - 1:38 pm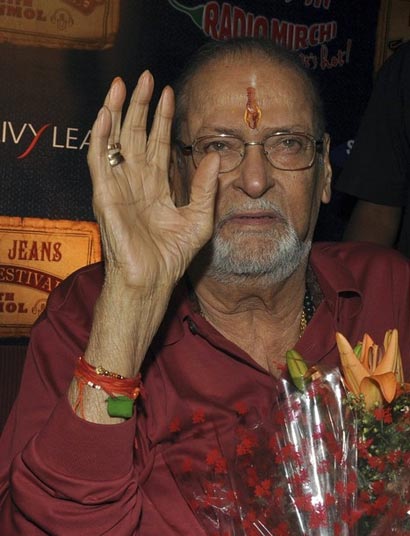 Tributes have been paid to Indian film star Shammi Kapoor who has died of kidney failure in Mumbai, aged 79 .
The actor belonged to the Indian film industry's famous family of actors which included his father, Prithviraj, and brothers Raj and Shashi Kapoor.
One of the most popular stars of his generation, he starred in hits like Junglee, An Evening in Paris, Chinatown and Kashmir Ki Kali.
During his career, he acted in more than 100 films.
Kapoor had been suffering from kidney disease for some time and had been admitted to hospital last week.
"He had been undergoing dialysis for the last six or seven years but developed complications," Nikhil Gangavane, a family friend who headed the official Shammi Kapoor fan club, said.
'At a loss'
Indian film star Amitabh Bachchan tweeted that with Kapoor's death the "flamboyance and joie de vivre of the [film] industry [was] lost".
Actress Saira Banu, who starred alongside Kapoor in Junglee, told CNN-IBN: "It is a terrible shock. Shammi Kapoor was a wonderful human being. He is eternal."
Film director Karan Johar described the actor on Twitter as "one of the finest and strongest men I knew" while actress Priyanka Chopra said she was "at a loss" after hearing the news.
A prominent star in 1950s and 1960s, fans called Kapoor the "Elvis Presley of India" for his frenetic and agile dancing in romantic hits such as 1957's Tumsa Nahin Dekha (You're One of a Kind) and 1959's Dil Deke Dekho (Give Your Heart and See).
He developed a style of his own and cinema-goers flocked to the theatres just to see the actor's antics and mannerisms.
With his infectious on-screen persona and energy, Kapoor was considered the Indian film industry's first real star.
However, he admitted much later that he was never a natural dancer, even if his original moves were a big draw for audiences and made him an unlikely romantic hero.
"The truth is I could never learn to dance. I even tried coaching classes but failed," he told the BBC in a 2006 interview.
"I always had a sense of music and rhythm. And that worked in my favour."
'Yahoo!'
The actor was also a keen internet buff and amongst the first Indians to have his own website. The site profiles his famous family, who have dominated Hindi-language cinema virtually since its inception.
He also maintained Facebook and Twitter accounts, describing himself as a "Renaissance man, retired actor, computer buff".
When the internet company Yahoo opened its office in Mumbai several years ago, he was invited by its co-founder Jerry Yang.
At the launch, Kapoor was pleasantly surprised to hear the band playing his Yahoo song from the film Junglee [or Wild], made famous years before the internet existed, and so called for his famous cry of "Yahoo!".
Later, Mr Yang told him how inspired he was by the Yahoo song and the way the actor had used the word in his inimitable style in so many of his films.
"It was all very flattering. Many of my relatives still call up and ask whether I own Yahoo," he told the BBC in an interview.
According to the actor's Facebook page, a funeral will be held on Monday 15 August at the Ban Ganga Crematorium in Mumbai.
He is survived by his wife, a son and a daughter.
BBC
Latest Headlines in Sri Lanka