Chandrika Kumaratunga Condemns The 18th Amendment
Posted by Editor on September 5, 2010 - 9:15 am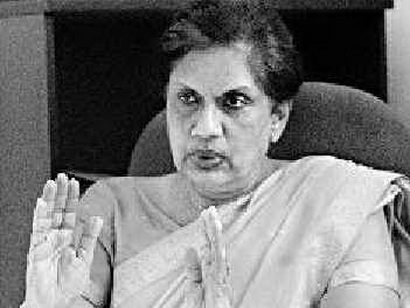 TC – By Mandana Ismail Abeywickrema
Former President Chandrika Bandaranaike Kumaratunga condemned the 18th Amendment proposed by the government saying it is a "horrendous move" and that she could not agree with it in any way.
Speaking to The Sunday Leader Kumaratunga said that being "a total democrat," she believes that rulers must not grab power, but on the contrary make it even more democratic. Kumaratunga said she had been firmly committed to abolishing the Executive Presidency and tried to do so in 2000 along with the devolution package, since the position was extremely dangerous to democracy. "Abolishing of the Executive Presidency was also included in the package," she said,
"I was always against the Executive Presidency and the extreme powers vested with it. When I proposed to abolish it, G.L. Peiris said not to and asked me to keep it for one or two years. But I said it should be abolished in one year," she claimed.
When asked if she would contest once again if the two-term limit on the Executive Presidency were lifted through the proposed constitutional amendments, Kumaratunga said she would not. "I'm not greedy for power," she said.
"I was dragged into contesting by the party after being defeated so many times. I came in when the country was in a bad way. I made four promises and except for bringing in peace, I fulfilled the rest. Even with regard to peace, I managed to complete three quarter of the war," she said.
Kumaratunga maintained she had made a promise to herself and her children that she would not ever contest after her second term.
Reiterating that she was not greedy for power, Kumaratunga said she was the only former President living in a government residence paying for everything with her personal money.
"Finally, Ranil Wickremesinghe shook hands with me in front of the media and agreed with the draft and when I asked if he would support it in parliament, he said 'I suppose we will,' However, every one knows what happened when it was presented to parliament on August 3," Kumaratunga said.
Speaking of the callous manner in which the government is currently treating her, Kumaratunga said that many letters written personally by her to the government with regard to her facilities and security have been ignored.
"Three weeks before my daughter's wedding in the UK, my security was withdrawn and one week before her wedding reception in Sri Lanka, the government closed down my office," she said. "Websites maintained by the government have said that I have robbed and that I have purchased mansions overseas. But in reality, I actually live in a two-bedroom flat in London. There are a few politicians who have visited me and they know it is true," she added. Finally when asked to describe President Mahinda Rajapaksa in two sentences, Kumaratunga said she could not respond to the question, as "a white van" would be sent for her.
"Contrary to many stories being said, I have never robbed a cent during my tenure and I now live by selling lands that were given to me by my parents," she said adding that she has already sold four such ancestral lands for her survival. "After five years, I was given Rs. 11 lakhs by the government to paint the house and have been given three vehicles that are over 12 years old."
Elaborating on the abolishing of the Executive Presidency she said that Prof. G.L. Peiris and she worked on the modalities of the devolution package in 2000, and then Attorney General Sarath N. Silva, Dr. Jayampathy Wickremaratne, Dr Neelan Thiruchelvam and M.H.M. Ashraff drafted it. However, Kumaratunga was unable to receive the necessary approval due to the opposition by the UNP, she said. Explaining her failed move to abolish the Executive Presidency, Kumaratunga said while the UNP agreed on almost all the content in the draft in 2000, they resorted to various delaying tactics to avoid discussion on the abolishing of the post.
"When it was time to discuss the abolishing of the Executive Presidency, the UNP asked for another date. Finally I gave them seven dates to discuss the matter, but on every occasion they asked for more time. When I asked what they were waiting for, they said they were not ready and wanted approval from the Ex-Co, as it was a crucial issue. The delegation that used to consist of six to seven members reduced to about two to three when it came to discuss the abolishing of the Executive Presidency. Ranil Wickremesinghe did not even attend some of the discussions," she said. – courtesy: The Sunday Leader –
Latest Headlines in Sri Lanka