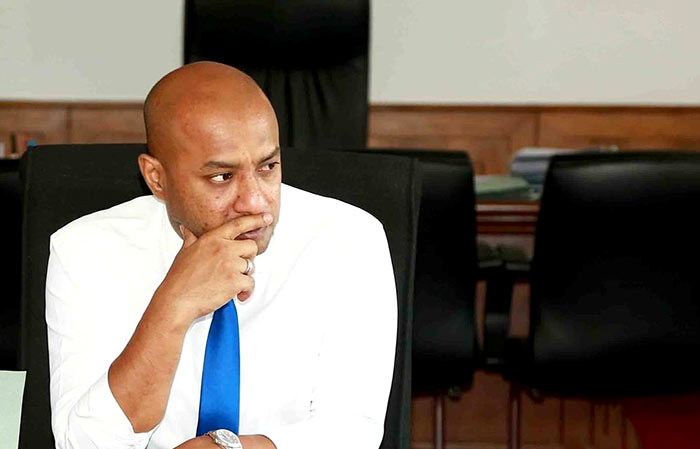 Breaking a self-imposed silence, Sri Lanka Freedom Party National Organizer Duminda Dissanayake yesterday said that he was working towards a "new force beyond party lines" to take the country forward from the current situation.
"I don't like the current system and I am working towards forming a new force beyond any party lines to work for the development of the country," Dissanayake told Daily FT.
Insisting that his next move would not be based along any party lines, he said that he would work with national interests in mind just as he did when he supported common candidate Maithripala Sirisena at the 2014 presidential elections.
"I am looking at setting up a new system to go forward as a country, to help the economy as well," he said.
Since the appointment of Mahinda Rajapaksa to the post of Prime Minister on 26 October, Dissanayake has kept a low profile, only speaking up once to say that he was "examining his conscience", indicating he was not on board with the political changes taking place. However, he later accepted a ministerial portfolio in the new Sirisena-Rajapaksa Cabinet. Since his appointment, Dissanayake has not made any public statements about his stance, nor has he attended parliamentary sittings with the rest of his colleagues.
Last week Manusha Nanayakkara, a crossover from the Rajapaksa camp who resigned from his Cabinet portfolio to support Ranil Wickremesinghe, also noted that Dissanayake had not attended Parliament.
"Duminda was not happy with these changes. I hope he will take a decision which will further weaken Rajapaksa's strength in Parliament," Nanayakkara told the media.
In a related development, the Sri Lanka Freedom Party (SLFP) Central Committee is set to meet today under the leadership of President Maithripala Sirisena.
The SLFP is set to discuss the current political situation of the country and the fate of their members who joined the Sri Lanka Podujana Peramuna recently, President Sirisena told the Foreign Correspondents' Association yesterday. "The central committee will take the decision on what action is to be taken against those who have taken the membership of the new party. It is not my decision," he said when asked if any disciplinary action would be taken against those who left the party.
The meeting is likely to discuss the upcoming general election as well. The United People's Freedom Alliance (UPFA) is also set to organise a rally calling for a snap parliamentary election on 3 December.
(Source: Daily FT – By Chathuri Dissanayake)