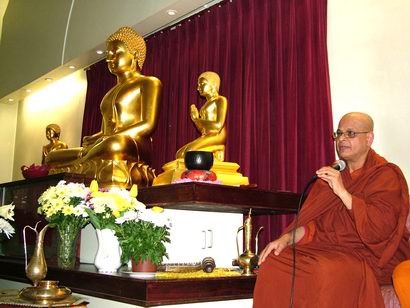 Press Release by British Sri Lankan Forum
(Pix by: Dusmantha Wijekoon)
Large number of patriotic Sri Lankans and few other nationalities gathered at the London Buddhist Vihara to pay tribute to the fallen heroes of the valiant Security Forces, those who engaged in the noble mission of liberating the country from the clutched of brutal terrorism ending 30 years of war.
The religious programme was conducted by the Maha Sangha headed by Venerable Bogoda Seelawimala Nayaka Thero, Head of the Vihara and the Chief Sangha Nayaka of the Great Britain. Venerable Thawalama Bandula Thero delivered the Buddhist sermons.
Mr Shiran Almeida spoke on behalf of Sri Lankan Catholics and Anglicans in the UK and delivered the message from Reverend Father Tony De Alwis, Sri Lankan Anglican priest in the Diocese of Southwell and Nottingham.
This religious remembrance service was conducted mainly for bestow merits on the fallen heroes to mark the Ranaviru Week announced by the government in conjunction with the first anniversary of defending the sovereignty of the country from separatism and terrorism. And also paid tribute to war heroes for their courage, determination and sacrifice in the defence of the nation.
Mr P.M. Amza, Deputy High Commissioner of the Sri Lankan High Commission in London, Brigadier Nirmal Dharmaratne, representing the Sri Lankan Forces and Mr Janaka Alahapperuma, on behalf of the organisers and the community addressed the gathering.
In addition, the occasion was graced by a very special hero of our Armed Forces Major General Nandana Udawatta, who led our noble troops in recapturing land lost to the LTTE terrorist along the Eastern border of our beloved motherland.
This event was jointly organised by the members of British Sri Lankan Forum and Sri Lanka Janahanda Foundation-UK on 16th May 2010 at 5.00pm. It is also proposed to make this an annual commemorative event in future years.