Fractures emerge in the Joint Opposition
Posted by Editor on August 6, 2018 - 10:40 am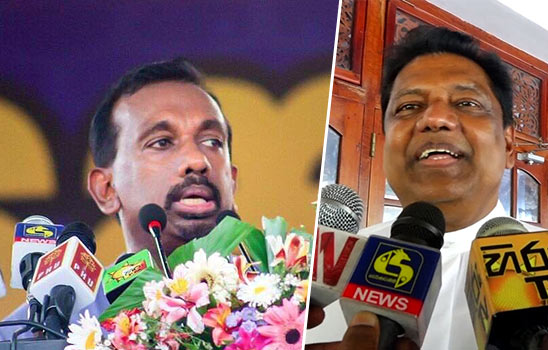 Recent reports have surfaced indicating a bitter dispute between Kumara Welgama and Mahindananda Aluthgamage. At a meeting yesterday (August 05) of the SLPP's Kalutara district youth organisation Welgama launched a tirade on Aluthgamage after the latter claimed Welgama is playing the role of a joker. In a retaliatory speech, Welgama accused Aluthgamage of being a coward who lacks a backbone as he claimed Aluthgamage failed to take the stage at a JO rally held in Nugegoda.
Welgama continued "I told him [Mahinda Rajapakse] that if [we] are to go for this presidential election we need you and no one else. I have no use for those who have not done politics. I speak to the face and I am not scared, even if I am killed tomorrow, I will say what needs to be said for the sake of the country. I don't need any positions; I am 65 plus now and I have been in the Parliament for the past 25 years."
UPFA MP Namal Rajapakse who addressed the meeting added that no one is scared even if Maithripala Sirisena says that they will be hanged.
Rajapakse went on to say "now the party is being organized through Facebook and social media networks. If they are not stopping drug deals with the threat of capital punishment, it is very clear that this cannot be stopped."
(Source: News 1st)
Latest Headlines in Sri Lanka