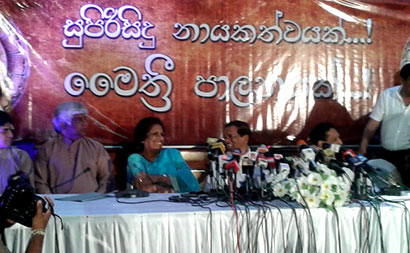 Dealing a massive blow to the ruling UPFA alliance ahead of the presidential polls, Minister Maithripala Sirisena, who is the General Secretary of its main constituent party SLFP, today announced that he will contest the forthcoming Election as the Common Opposition Candidate.
"I thank all political parties and political groups for selecting me as the Common Candidate," the Minister of Health said, speaking at a special press conference currently underway at the Colombo New Town Hall.
Sirisena said he never expected the opposition parties led by the United National Party (UNP) would pick him, the General Secretary of the Sri Lanka Freedom Party (SLFP), as the Common Candidate of the Opposition and expressed his gratitude.
He stated that today a catastrophe has befallen the rule of law in the country and vowed to bring forth a change.
He also pledged to abolish the Executive Presidency within 100 days of being elected as the President of Sri Lanka and the current election system.
The Minister said he would also reinstate the 17th Amendment and abolish the 18th Amendment to the Constitution, which allows for unlimited terms for the President.
Sirisena said that once elected he would appoint current Opposition Leader and UNP leader Ranil Wickramasinghe as the Prime Minister of Sri Lanka.
Sirisena's defection from the government is the biggest political setback in recent times for the Rajpaksa government, who still enjoys considerable support after leading a military campaign to end a 25-year war against Tamil Tiger rebels.
Sisisena accused Rajapaksa's administration of concentrating all power in his family and taking the country toward authoritarianism.
The press briefing was also attended by former President Chandrika Bandranaike Kumaratunga, Fisheries Minister Rajitha Senaratne, Education Services Minister Duminda Dissanayake, Buddha Sasana & Religious Affairs Deputy Minister M.K.D.S. Gunawardana, MPs Wasantha Senanayake, Arjuna Ranatunga and Rajiva Wijesingha.
Minister Rajitha Senaratne, speaking at the press briefing, said he is abandoning his ministerial portfolio, his privileges and is putting his life at stake to support Sirisena at the next Presidential Election.
He also apologized to the public for 18th Amendment to the Constitution, which he termed as a big "sin."
Former President Chandrika Bandranaike Kumaratunga, also speaking at the press briefing, said that she would provide her utmost support to Maithripala Sirisena at the Presidential Election and thereby help rebuild this country.
Chandrika said that she endured various hardships during the 9 years after the end of her term as President and that even her children opposed her decision to re-enter this political movement, in fear for their lives.
Meanwhile it was earlier reported that the UNP's G20 Election Committee and Parliamentary Group has endorsed Maithripala Sirisena as the common candidate to run for the presidential election.
(Ada Derana)