I won't repeat my father's mistakes – Sajith
Posted by Editor on June 16, 2010 - 1:41 am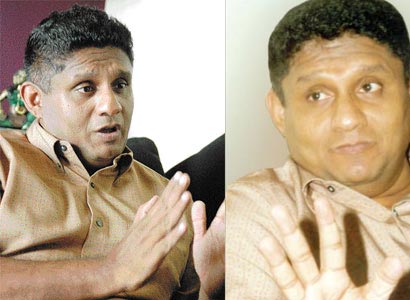 Daily News – By Sumaiya Rizwi
UNP Member of Parliament Sajith Premadasa speaks to Daily Mirror online in a Live audio interview regarding party issues
Q:Do you think the opposition leader Ranil Wickremsinghe has failed as a leader?
Well, I think during his tenure we have had as a political party our successes and we have had our failures but I have to say that all of us are ollectively responsible for various achievements and for the various setbacks. So having said that every time we are defeated at an electoral contest we have to consider ourselves as having failed. But I think as a party if we garner and re- mobilize ourselves we can once again become victorious. If you take the overall picture one can argue with the number of electoral defeats that we have collectively failed on successive occasions but then again I think if we re- garner and re- mobilize our resources and our support base the United National Party has a good future.
Q:Even after he lost so many consecutive polls?
Well, he has taken a decision that he has a role to play both within the UNP and in Sri Lankan politics. We all respect that, so its his discretion whether he is going to continue to play a major role in the political arena.
Q:What is the current consensus within the UNP on its leader Ranil Wickremesinghe and the party reforms?
I must say there is a plethora of opinions, a variety of suggestions and proposals. So there isn't a consensus as such. As of now, because I believe that a party which respects giving due consideration to the opinions and suggestions of all, we have formulated various proposals through a committee that has been appointed by the working committee. And we hope to make sure that some sort of a consensus is achieved at some time in the future very soon.
Q:Doesn't the party leader have exceeding powers and the decision making centralized with the party leader?
There are a lot of criticism as far as the concentration of power within the hands of the party hierarchy, and we as a party, will look into all aspects of the party constitution and the way our party operates. We intend to carry forward the requisite and necessary reforms to give new cognoscente to the variety of proposals that are emanating from all sectors of society. We shall ensure that our party is modernized and well equipped to handle future electoral contests.
Q:If you can detail as to what you spoke on the party reforms?
I have proposed a variety of measures that would promote a further democratization of the party structure, the decision making process, how we react to various political contingencies. So in addition to the democratization process we have to have a sound infrastructure both at central and grassroot level and ensure that the views of the silent majority is better reflected in the various policies that we formulate . There are various measures that we have to go about as a party. It cannot be described in a few minutes. As a party I'm very optimistic that we shall move, and move forward.
Q:Caller: Gamini Perera Nugegoda: You often say that you are following President Ranasinghe Premadasa's policies, certain good has been done by your father. He has also had some bad policies For example he never trusted qualified people to be given top places in the government. He left out Lalith Athulathmudali and Gamini Dissanayake and made D.B. Wijethunga the Prime Minister. Are you also going to follow the same policies and leave parliamentarians like Dayasiri Jayasekara out?
Certainly, I have always proposed that I will implement the various policies that my father implemented in the development arena which are assets to our country and our party. As you quite rightly said, I have also asserted that the various shortcomings that he has had in the policies he implemented, will certainly be eradicated. If we look at the Gamini and Lalith episode in the UNP political history , it is a sad period because all of them were responsible for the internal conflicts that took place and my father also has to take part of the blame. As a graduate of the London School of Economics and political science I respect and give credence for those who have academic achievements. I would also respect those who can transform and translate deeds into policies and practical action.
Q:Caller Shihara Shuaib, Wellawatte: Are you ready to take up the leadership and will you take up the leadership?
As far as leadership succession is concerned there isn't a vacancy for the position of a leader. The Party has a leader and other positions are also filled. As far as responsibility and leadership is concerned you don't necessarily have to have positions. I had to compete fiercely using the democratic processes within the Hambantota District against the Rajapaksa administration. With the greatest difficulty we managed to hold our own. We managed to retain the same number of MP's as in 2004 ,that of the two seats. Being the position of a leader is not an essential to achieving progression within the UNP and achieving peace and harmony within the country. I will do my utmost to see that our party is well equipped to face future political challenges. If I achieve any position I would rather be elected than be selected to it.
Q:How close are you to holding elections to elect the new leaders of the UNP?
There is a report that is being compiled by a six member committee appointed by Ranil Wickremasinghe and the working committee. That subcommittee will look at proposals for discussion and those proposals will be put forward to the working committee and to the parliamentary group which will ultimately decide on the issue.
Q:Caller Aruna: We are still not sure whether the leadership will be elected or nominated since Tissa Attanayake, Premadasa, Earl Gunasekara and Dayasiri Jayasekara all UNP MP's differ in their opinion of this?
If you listen to the various proposals put forward by myself, Dayasiri Jayasekara and Earl Gunasekara we are on the same wave length that the process should be elections and not selections. The procedure of filling in the party leadership and other positions is yet to be decided. It has to be discussed within the pressure groups, grass roots, parliamentarians, working committee, provincial councillors and local authority members. A wide spectrum of opinion that needs to be taken into account. It's not a monolithic decision making process that our party has. What we have is a process of wide consultation and respect of the opinions of others when it comes to the party decision making.
Q:What is the present way of appointments prevailing in your party? Most of appointments that are mae are based on the the names proposed by the party leader.Generally most of the names proposed are out objected to. As I see it a more democratic procedure will be more suited for our party in this modern day and age.
Q:Caller Rakesh Wellawatte: According to the UNP constitution can Mr. Ranil Wickremesinghe be in power any longer?
According to the party constitution there is no procedure as such for a continuous election process as far as the party leadership is concerned. This is why this particular committee is looking into all aspects of the constitution where it has to be reformed, modernized and changes have to take place. Its an on going process and I hope democracy will prevail.
Q:Can you expand on the kind of modernization (reform) on the party leader's role you expect?
Not only for the party leadership, we have deputy leaders, assistant leaders, the national organizer, the general secretary and assistant secretaries. There are responsibilities attached to these offices by the party constitution. So this modernization has to be an open, transparent and democratic process. It can't be a process where a single voice or opinion dominates the whole agenda. This is why we are in a process of consultation within the party.
Latest Headlines in Sri Lanka