I would take any decision in proper time for betterment of country – President
Posted by Editor on March 8, 2016 - 10:27 am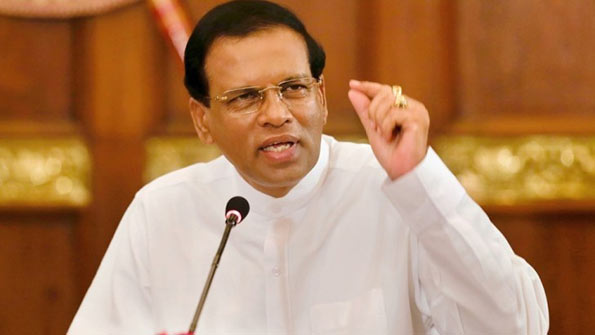 President Maithripala Sirisena says that the responsibility of the rulers who love the country and the people as well as scholars and intellectuals is to provide most appropriate things to the people.
He added he would take any decision for the betterment of the country and the nation in the proper time.
The President made these remarks at the inauguration ceremony of the "Toxin Free Nation (Vasa Visa Nethi Ratak)" National Program at the BMICH yesterday (March 07).
He pointed out though the previous governments initiated various programs to enhance the agriculture and the farming community none of them succeeded in freeing the farmers from the debt burden. "The aim of the new government is to strengthen the economy of the farmers by introducing a better agricultural policy", he said.
President Sirisena stated that the leadership of this program should be taken by the divisional leaders and the Agrarian Services Department. "All those who love the country and expect a better future of the nation should get together to make this program successful, forgetting their political differences", he said.
The three-year national plan which based on the government's policy to provide toxin free food to everybody, aims to make Sri Lanka a toxin free green island.
The President launched the program created to take information about the farming lands in the country by using the satellite technology.
Ven. AthuraliyaRathanaThero, Prime Minister RanilWickremesinghe, Minister DuminaDissanayake, Governors, Provincial Chief Ministers, Provincial Ministers, Secretaries to the Ministries and Government officials participated in this ceremony.
(President's Media)
Latest Headlines in Sri Lanka