IT'S 10 MONTHS SINCE GENERAL FONSEKA WAS IMPRISONED: VIJITHA HERATH
Posted by Editor on December 13, 2010 - 12:14 pm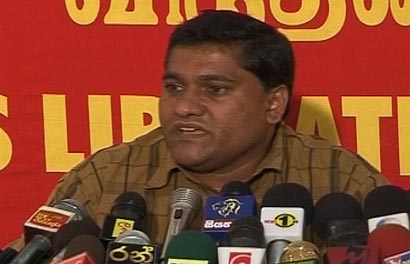 Ten months have gone by since General Sarath Fonseka was imprisoned and the Democratic National Alliance has called on the government to stop its anti democratic acts and suppression of people.
Addressing a media briefing convened on human rights and former Army Commander Sarath Fonseka, parliamentarian Vijitha Herath said that fundamental human rights were being blatantly violated.
"At a time when it has been ten months since the imprisonment of General Sarath Fonseka, we urge the government and the authorities once again to stop the anti democratic suppression of the people.
"Fundamental human rights are being blatantly violated. It has come to a point where instead of building a free, democratic environment, state terrorism is being exercised once again," said Vijitha Herath.
The way various cases are filed against former Army Commander Sarath Fonseka reminds one of fabricated stories, said Mrs. Anoma Fonseka.
"There are nine cases filed against my husband General Sarath Fonseka. These cases have been concocted just like the various stories that have been made up.
"I have always said that I would not ask for an apology on behalf of my husband. However, I hope that justice will be meted out to my husband," said Mrs. Anoma Fonseka.
Courtesy: News First
Latest Headlines in Sri Lanka