JVP calls for removal of CB Governor
Posted by Editor on March 11, 2015 - 8:26 am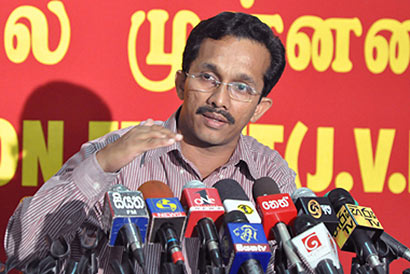 The Janatha Vimukthi Peramuna yesterday called for the removal of Central Bank Governor Arjuna Mahendran from his post until the conclusion of the investigation into the Treasury bond issue.
Speaking at a media briefing yesterday, Parliamentarian Sunil Handunnetti stated the Governor should be removed or he should resign from his post to pave the way for an impartial investigation into the one-billion-rupee bond issue. The bonds were issued recently to raise emergency funds needed to carry out construction and other projects. The government earlier said that the funds were needed due to difficulties arising from financial malpractices and mismanagement of the former government.
Handunnetti said the bond issue appeared questionable for several reasons. He said the bonds were to be issued at a market rate of 9.5 per cent to raise Rs.1 billion. However, it was ultimately issued at 12.5 per cent raising Rs.10 billion, he said.
He further stated that bonds are usually awarded to several parties in blocks so as to make the interest rates competitive but in this case bonds worth Rs.5 billion had been issued to a company owned by the governor's son-in-law at an average of 12.3 per cent resulting in Rs.2 billion loss for the Government.
Handunnetti pointed out that incidents like this will affect the public confidence in the Central Bank as well as the Sri Lankan economy and that the government should not let this happen. He stressed that an impartial inquiry should take place on this incident.
(Daily News)
Latest Headlines in Sri Lanka