JVP queries possible vehicle bribe to MPs supporting government
Posted by Editor on November 18, 2016 - 6:16 am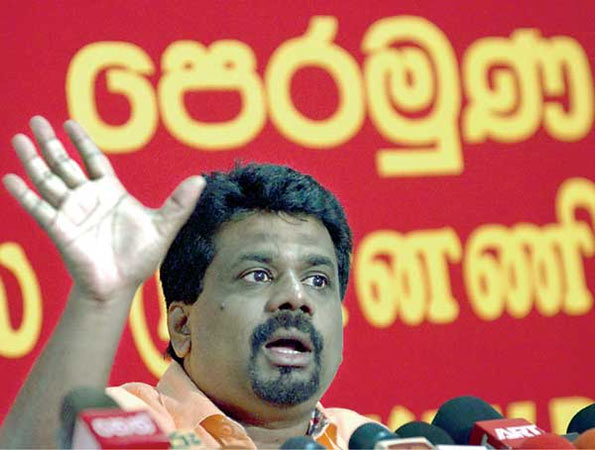 The JVP demanded to know yesterday why the state officials tasked with providing luxury vehicles to 58 MPs supporting the government should not be accused of fraud.
Making a special statement in Parliament JVP leader Anura Kumara Dissanayake said: "The entire project of providing luxury cars to 58 MPs backing the government costs over Rs. 2,430 million to the public purse. It has been revealed in media that entire procurement process is questionable. This fraudulent process would warrant an investigation into the alleged fraud and the officials concerned would be probed.
"Procurement notices were published before the Cabinet approved the project. The procurement committee and the Technical Evaluation committee have rejected the bidders who indicated their willingness to supply cars. Yet the process is in progress and these vehicles have been leased at a monthly rental of Rs 700,000 each. The cost per one km would be around Rs. 250. Each vehicle leased out for 60 months would cost around Rs. 42 million more than its market value. For the fleet of 58 vehicles the government will have to pay Rs. 2,436 million. Though the government pays that exorbitant amount it would not own the vehicles. It can now be seen that there is a mega fraud in the process of procuring the vehicles."
The JVP Leader said that each of those MPs was currently paid Rs 200,000 monthly transport allowance. He demanded to know why they were given cars at the expense of the taxpayers. Those MPs had already obtained their duty free vehicle permits, he pointed out.
Dissanayake demanded to know the date on which the decision to give 58 MPs new cars was taken, the details of the procurement process and whether the government could justify provision of luxury cars to MPs who had been paid a Rs 200,000 transport allowance and given a duty free vehicle permit.
Leader of the House Highways and Higher Education Minister Lakshman Kiriella said the government would answer the question at a future date.
(Source: The Island – By Saman Indrajith)
Latest Headlines in Sri Lanka