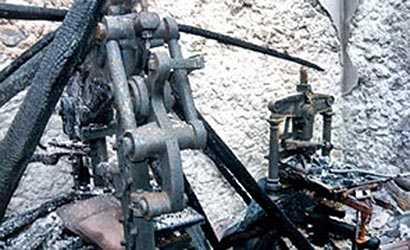 The monks' abode (Sangha Wasa) of the Kataluwa Ranwella ancient temple in Habaraduwa, Galle was completely gutted in a fire that broke out within its premises on Monday night due to what is suspected to be an electrical short circuit.
The pristine printing machine believed to be the oldest printing machine in Sri Lanka which had printed the first ever national newspaper " Lanka Loka " that was housed in the Sangha Wasa was completely burnt down in the fire.
At the time of the incident Chief Incumbent of the temple Ven. Delagama Sugathawansa thera had been out of the vihara visiting a neighbouring temple and a resident monk Ven Ahangama Hemananda thera who was present had noticed smoke rising into the air from a section of the vihara.
The priest had rushed out to inform the monks in the adjoining temple who in turn rushed to the scene and tried to douse fire with the help of the villagers. They have also got down the fire brigades of the nearby Local Government institutions in Galle, Matara and Weligama.
But the fire which broke out at 9.00 pm on Monday could be put out only by 3.00 am yesterday .
The Buddhist priests and the public who gathered at the temple to witness the destruction caused to the temple building were extremely grieved over the irreparable devastation caused to the antiquated printing machine which is a precious national heritage connected to the journalistic history of the country.
They urged the Archaeological Department to take immediate steps to preserve at least the ruins of scorched ancient printer which is fondly called the "Kataluwa Machine"
The chronicles of journalism of Sri Lanka record that the "Kathaluwa Machine" was the original printing machine used for printing purposes at the earliest press of Sri Lanka ," Lokopakaara" established in Galle in 1861 by a group of Buddhist elite guided by Ven. Bulathgama Dhammalankara Siri Sumanthissaa nayake thera of the Sri Paramananada Ancient Temple of Galle.
Ahangama Police are conducting investigations into the incident.
Courtesy: Daily News