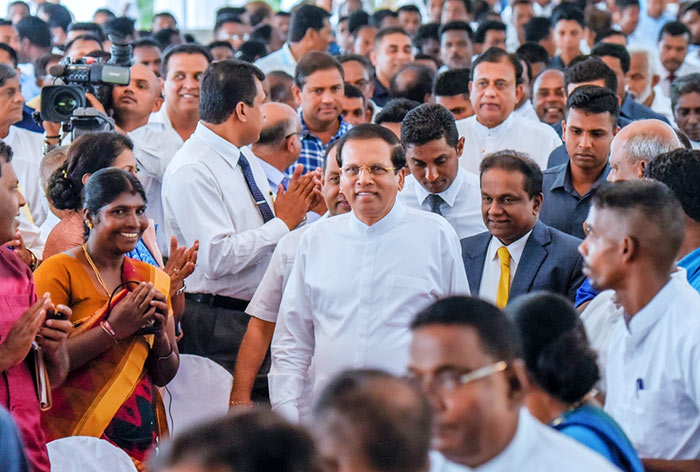 President Maithripala Sirisena says programmes will be implemented in the future to serve the people, together with all the people's representatives who contested for the Local Government election under the Sri Lanka Freedom Party (SLFP) led United People's Freedom Alliance (UPFA). He added that the programme will be implemented by the SLFP and the government.
'None of the defeated candidates would ever abandon, and all of them would become representatives of me appointed to develop the village,' the President further said.
The President made these remarks addressing a meeting held with the SLFP led UPFA winning candidates in the Local Government election, under his leadership, including the SLFP district and electorate organizers at the President's House in Colombo, yesterday (Feb 15).
Candidates who won the election under the SLFP, UPFA, Ceylon Workers' Congress, the National Congress and EPDP, were participated in this meeting.
President Sirisena further said that all the people's representatives should commit themselves to create a political movement free of fraud and corruption in keeping with the pledge of the SLFP.
He also said that all should work together, to take forward an accurate and strong political and development process while rectifying the mistakes and understanding the experiences gained at the recent Local Government election.
The President said that he is pleased with this mandate given for the SLFP led by UPFA to create a political movement free of fraud and corruption, and expressed his gratitude for all those who contributed in this task.
The national movement against fraud, corruption, and irregularities will be started within next two weeks, which was presented as the slogan of SLFP in the past local government election, he said and further mentioned that the support of religious leaders, scholars and as well as international assistance is expected in this regard.
Arumugam Thondaman, the leader of Ceylon Workers' Congress, A. L. M. Athaullah, former Minister and leader of the National Congress expressed their views during this event.
Minister Nimal Siripala de Silva, Senior Vice Chairman of SLFP, Mahinda Amaraweera, Secretary General of UPFA, Anura Priyadharshana Yapa, S. B. Dissanayake, and other senior ministers of SLFP joined in this event.
(President's Media)