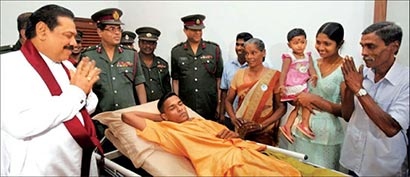 President Mahinda Rajapaksa said his government will do its utmost to ensure the well-being of War Heroes and their families. "Our War Heroes fought fearlessly to secure the Motherland and leave a country for all to live in peace and without fear," he said at the opening of the third Abimansala in Kamburupitiya on Saturday.
"We have routed the enemy and the war against terror is over. But, we have not completed the programme to build the lives of the people in the North and East and we are continuing to do our part to ensure that they live a better life in their own environment," the President said. The third Abimansala in Walpitawatte, Kamburupitiya is fully equipped to cater to the needs of disabled solders. This is a fulfillment of the promise made in the Mahinda Chinthanaya The facility is meant to rehabilitate, provide medical care, rest and recreation to soldiers who sacrificed their future for the motherland, he said.
President Rajapaksa said the government is committed to create a better tomorrow for soldiers who sacrificed their youths and fought to save the country from the LTTE.
He said looking after hundreds of thousands of misguided youths now rehabilitated, was a duty of the government.
"It is not only those youths who have been rehabilitated, but we also have to see to the well -being of families of fallen solders and ensure that they lead a better life," he said.
"Our lives were under threat when my government decided to fight terrorism and free the country from the grip of ruthless terrorists. We have achieved our aim of freeing the country from terrorism and when I come to think of our achievements amidst all odds and anxieties, I feel happy and I reconcile myself with humility that I have done my duty to bestow a free country to my people," the President said.
President Rajapaksa said: " I opened the Abimansala named Mihindu Seth Medura in the Western Province, Anuradhapura Abimansala for soldiers of the North Central Province and we are pleased that we have been able to open the third Abimansala to salute soldiers of the South . The Abimansala built at Rs 240 million stands on 10 acres."
The centre will facilitate totally disabled soldiers with equipment, not available in their homes. The centre has a physical therapy centre, ayurvedic treatment units, auditoriums and sports grounds and a 24 hour medical centre.
The centre was constructed on the directive and inspection of Defence Secretary Gotabhaya Rajapaksa and Army Commander Lt Gen Jagath Balasuriya. President Rajapaksa who toured the facility distributed books among disabled soldiers.
The President also registered the first inmate of the Third Abimansala.
Courtesy: Daily News