President Rajapaksa attends the Sri Sambuddhathwa Jayanthi sil programmes in schools
Posted by Editor on May 16, 2011 - 8:08 am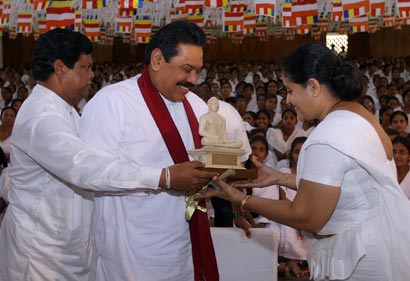 Onlanka News – By Janaka Alahapperuma
(Pix by: Sudath Silva)
President Mahinda Rajapaksa participated in the sil campaigns organized in connection with the 2600th Sri Sambuddhathwa Jayanthi celebrations at the Ananda and Nalanda Colleges and Visakha Vidyalaya in Colombo on Friday 13 May. Many special religious programmes of Dhana, Seela and Bhavana including sil campaigns have been organised at all schools in the island to commemorate the 2600th Sambuddhathwa Jayanthi.
The 2600th Sri Sambuddhathwa Jayanthi special religious programmes have been held countrywide under the patronage of the President for the school children with the aim of building a virtuous generation who are to take the future of the country to adhere to the percepts.
To mark the occasion President Rajapaksa joined in a Sambuddhathwa Jayanthi programme of Ananda College Colombo. Alms, sil and meditation were among the many programmes organised. Later he participated as the Chief Guest in a Sambuddhathwa Jayanthi programme launched in Nalanda College Colombo. Finally, President Rajapaksa visited Visakha Vidyalaya and joined in offering midday alms giving (Dhana) to schoolchildren who participated in the sil campaign. Presentation of a Buddha statue to the Vishaka Vidyalaya has also taken place.
Education Minister Bandula Gunawardhana, parliamentarian Thilanga Sumathipala, Public Trustee Sarath Seneviratna, principal of Ananda College L.M.D. Dharmasena, Principal of Nalanda College Ranjith Jayasuriya, Principal of Visakha Vidyalaya Sandamali Aviruppola were also present
President Rajapaksa is seen here participating in the Seela Campaigns and other religious observances with the school children at leading Buddhist schools in Colombo, offering dana at the Visakha Vidyalaya and presenting a Buddha statue to Principal Mrs. Sandamali Aviruppola. Religious observances were conducted by Ven. Thrikunamalaye Ananda Thera and Ven. Galagama Dhammaransi Thera.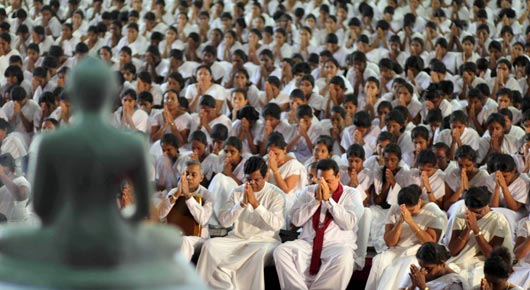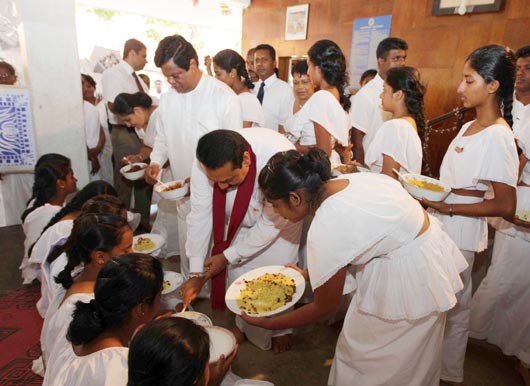 Latest Headlines in Sri Lanka