President sends open invitation to critics: 'Visit SL and savour its pluses'
Posted by Editor on October 27, 2011 - 3:55 am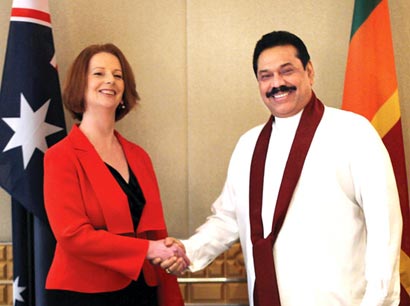 Sri Lanka yesterday invited all those who level charges against it, to visit the country and see for themselves the progress it has made since the eradication of terrorism and the peaceful environment and ethnic coexistence that exist in the island.
President Mahinda Rajapaksa made this open invitation when he met Australian Prime Minister Julia Gillard at the Pan Pacific Hotel yesterday on the sidelines of the Commonwealth Heads of Government – CHOGM 2011, which is due to commence in Perth tomorrow.
The leaders of Sri Lanka and Australia had a fruitful round of bilateral talks, on a wide range of issues, held in a cordial atmosphere. Australia thanked Sri Lanka for the steps it has taken to prevent illegal migrants to Australia. Premier Gillard commended action taken by Sri Lanka's Security Forces to prevent human smuggling.
She said nearly 400 people have drowned while attempting to enter Australian territory through illegal channels.
President Rajapaksa also praised Australia's role in the demining activities in the North and pointed out that Australia is one of the first countries to embark on the project.
Referring to false allegations levelled by LTTE sympathizers on human rights, the President said any country which is sincerely concerned on such reports could hold bilateral talks to iron out any misunderstanding and to get first hand information in a "civilized and democratic world". The President said that he does not believe in punishing countries and the CHOGM should be used as a platform to talk on more important issues such as alleviation of poverty and development.
President Rajapaksa told the Australian leader that the international community should patiently wait until the Lessons Learnt and Reconciliation Commission Report is out and the subsequent tabling of it in Parliament. He warned that the LTTE activists abroad could spread their wings unless countries in which they are living, take a tough stand on their illegal activities.
External Affairs Minister Prof G L Peiris, Secretary to the President Lalith Weeratunga and the Governor of the Central Bank of Sri Lanka Ajith Nivard Cabraal were among the Sri Lankan delegation who took part in the bilateral discussions with Australia.
Queen Elizabeth II will officially open the 2011 Commonwealth Heads of Government Meeting (CHOGM) tomorrow, which will take place over three days amid tight security in Perth. "This will be a CHOGM focused on resilience, reform and renewal," Commonwealth Secretary-General Kamalesh Sharma said.
Courtesy: Daily News
Latest Headlines in Sri Lanka