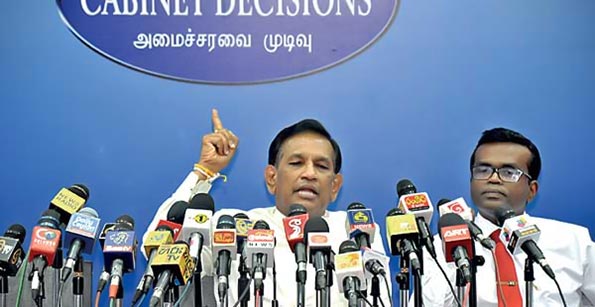 Cabinet Spokesman and Health Minister Rajitha Senaratne said yesterday that it was Prime Minister Ranil Wickremesinghe who had told him that the Chinese contractor building a section of the Colombo Outer Circular Road connecting the Highways had agreed to reduce the cost of the project by Rs. 30 billion.
He made the claim during the weekly Cabinet Press Briefing in Colombo.
Senaratne was responding to a denial by the Chinese Embassy in Colombo of a statement made by him on Wednesday that the contractor from China was willing to reduce a sum of Rs. 30 billion from the cost of the section of the COCR as it was the component that was due to be paid as kickbacks to some powerful figures in the previous Rajapaksa government.
Asked about the denial by the Chinese Embassy, the minister replied that what he had told the media was based on the information provided to him by Prime Minister Ranil Wickremesinghe.
When asked on Wednesday how the Rs. 30 billion had not yet been given to the persons referred to by him, Senaratne replied, "Commissions are paid in stages."
We,do not know much has already been given to some VVIP's in the last regime. That is what we are investigating."
The Chinese Embassy said that no agreement had been reached between the Chinese contractor and Sri Lanka Road Development Authority on reducing the cost of building a section of the COCR ."The so called Rs.30 billion commission set aside to be paid to some in the previous government is groundless.The cost of the 9.6 kilometer section of the COCR being constructed is Rs. 66.8 billion.The contract cost is reasonable since the project comprised six kilometers viaduct and 3.5 kilometers embankment.It is a very tough job and the cost is quite low in comparison to other countries."
(The Island)