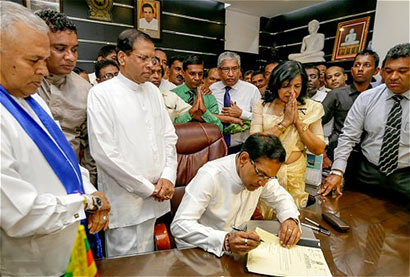 New Health and Indigenous Medicine Minister Dr. Rajitha Senaratne on assuming duties yesterday revealed that he had been appointed as Health Minister in keeping with a decision taken following a comprehensive discussion held with President Maithripala Sirisena, Prime Minister Ranil Wickremesinghe and former President Chandrika Kumaratunga.
Dr. Senaratne said that immediately after Maithripala Sirisena had won the presidential election, the latter had asked him whether he was willing to be the Health Minister. The President had promised to be present at the Health Ministry on the day of the new minister assuming duties.
He had never heard nor expected President of the country to do so.
Dr. Senaratne said that President Sirisena and he had left their portfolios to lead the Opposition political campaign against former President Mahinda Rajapaksa. Two days prior to launching his political campaign the former President Rajapaksa had invited him to Temple Trees and his mood seemed to be different and asked him to speak with Mr. Sirisena to change his mind. Then he had visited Mr. Sirisena and conveyed the message of President Rajapaksa, but the former Health Minister and SLFP General Secretary Sirisena had said he had decided to contest as common Opposition candidate against President Rajapaksa.
Dr. Senaratne said that President Sirisena had also asked him to lead the political campaign with his supporters later. Then he told President Sirisena that since he did not want to leave President Sirisena in the lurch and led the political campaign the following day itself.
Some reforms in human resource management, procurement of drugs and medical equipment and tender procedure would be introduced in due course, the new minister said. Corruption, malpractices and irregularities would also be eliminated from the Ministry in the near future, he added.
(Courtesy: The Island)