'Reconciliation need of the hour'
Posted by Editor on February 28, 2018 - 8:38 am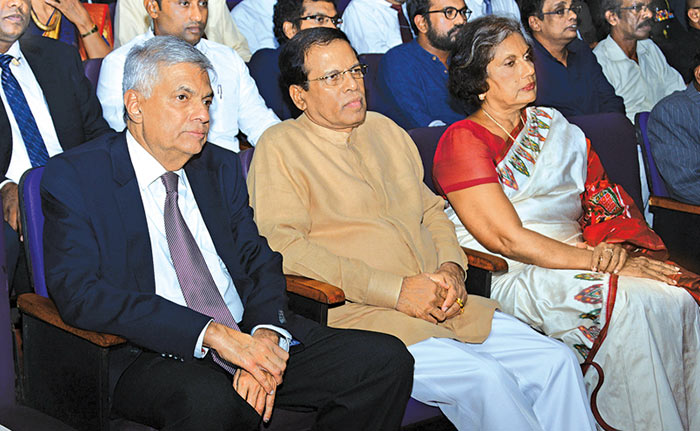 President Maithripala Sirisena yesterday stated that incidents such as the one in Ampara on Monday were detrimental to the reconciliation process of the country.
The President said that such incidents stand as challenges to the government's reconcilliation programme.
"While we launch the Sri Lanka National Policy on Reconciliation and Co-existance, we have to overcome these kinds of challenges in the process of reconciliation," President Sirisena said.
President Sirisena was speaking at the launch of the National Policy on Reconciliation and Co-Existence Sri Lanka and the premiere of the film "Thundenek" at the Regal Cinema yesterday.
The President also stated under such circumstances, we have to commit ourselves and work hard to bringing about reconciliation and co-existence.
"But those who attempt to do good are mostly treated in a disdainful manner," the President said. "This is the lesson espoused by our religious leaders as well."
President Sirisena also said that the government had done a great deal of work during the last three years to bring about reconciliation in the country.
He added that the reconciliation process is a moral vision and it is very hard to inculcate this in the minds of certain people who work according to their personal agenda.
The President added that the launch of the National Policy was historic since the progress of a project lies behind policies, planning and enactment.
President Sirisena also appreciated the commitment of former President Chandrika Bandaranaike Kumaratunga in her capacity as the Chairpersom of the Office for National Unity and Reconcilliation to adopt Sri Lanka's first National Policy on Reconcilliation.
The Film "Thundenek" which is co-directed by Prasanna Vithanage, Vimukthi Jayasindara and Ashoka Handagama on the theme of reconciliation and co-existence had its premiere following the launch of the Sri Lanka National Policy on Reconcilliation and Co-Existance.
Copies of the National Policy were presented to the President Maithripala Sirisena and Prime Minister Ranil Wickremesinghe by Office for National Unity and Reconciliation Director General M.S. Jayasinghe.
(Source: Daily News – By Sandasen MARASINGHE)
Latest Headlines in Sri Lanka