Sri Lanka hoping China will exploit investment opportunities
Posted by Editor on September 15, 2014 - 4:29 pm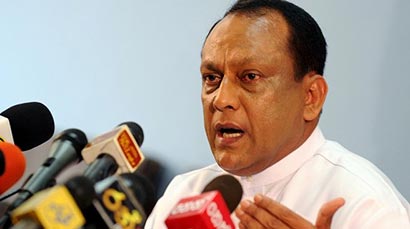 China's 21st Century Maritime Silk Road initiative presents a major opportunity for the economic takeoff of Sri Lanka and will help the country smoothly realize the "Mahinda Vision", minister of investment promotion Lakshman Yapa Abeywardena said.
In an interview with Xinhua on the eve of Chinese President Xi Jinping's visit to Sri Lanka, Abeywardena said due to its unique location, the initiative brought up by the Chinese president during his visit to Southeast Asia in 2013, will bring a historic opportunity for his country's post-war economic takeoff and Sri Lanka will emerge as the world's new center for aviation, sea transportation, energy, commerce and tourism.
On the latest development of the China-Sri Lanka ties, the minister said "We are glad the friendly and cooperation relations between the two countries are in good momentum for the time being, with the mutually beneficiary cooperation yielding more and more fruits. I am confident about the future development of the trade, investment and cooperation between the two countries. I also hope that more and more Chinese enterprisers will come to Sri Lanka to exploit investment opportunities."
Noting the tremendous Chinese market, Abeywardena hoped that more and more goods from Sri Lanka will gain access to the Chinese market, and the proposed Sri Lanka-China Free Trade Agreement (FTA) , the existing Sri Lanka-India FTA and Sri Lanka-Pakistan FTA will significantly improve his country's investment environment, make his country more attractive to investments and add new impetus to his country's new phase of fast economic development.
Explaining the big gaps in bilateral trade in an objective manner, the minister made proposals to effectively narrow the gaps such as by building the maritime silk road to bring more foreign direct investments, especially the direct investments from China, to Sri Lanka, expanding investment and building industrial zones to adjust the formation, raise the quality and added value of the goods for exports so as to increase Sri Lanka's export volumes to China and solve the issue step by step.
"Frankly speaking, as a minister of investment promotion, what I am seeking is to ensure that the interests of Sri Lanka can be maximized from the foreign direct investments."
Loans and investments from China have played a key role in Sri Lanka's post-war reconstruction, not only contributing to foreign exchange reserves and job creation, but also to generation of considerable benefits through technology transfer and development, he said.
The fact that China became Sri Lanka's biggest foreign direct investor in 2013 demonstrates that the bilateral ties have been greatly consolidated. It also showcases the significant role China has played in Sri Lanka's economic development and its prosperity in the future, Abeywardena added.
The Mahinda Vision is a development plan which envisages an ambitious acceleration of growth through the scaling up of investment and increased productivity. It aims to position Sri Lanka as a five-hub economy centered around the aviation, maritime, energy, commerce and knowledge sectors. – Xinhua
Latest Headlines in Sri Lanka