Sri Lanka makes multi pronged arrangements to evacuate Lankans from Libya – Dilan Perera
Posted by Editor on February 24, 2011 - 1:10 pm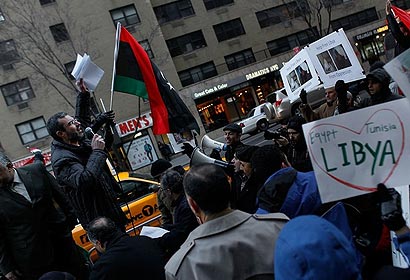 Sri Lankan Government is making multi pronged approaches to evacuate expatriate Sri Lankans working in Libya as the situation there is worsening. Sri Lanka's Minister of foreign Employment Promotion and Welfare told this edition that he has appointed a committee to coordinate these matters through the External Affairs Ministry round the clock.
According to reports reaching Colombo, all air ports except in Tripoli has been closed now and even Tripoli is inaccessible due to continuous protests. Mr.Dilan Perera said that one of the immediate arrangement is to send a ship to Malta the closest Port to Libya to evacuate stranded Sri Lankans from there.
"We are unable to make any logistic arrangements through IOM, as we understand that the IOM has left Libya due to the prevailing situation", the Minister said. Therefore External Affairs Ministry is making arrangements for this move.
Meanwhile the Minister said that the Foreign Employment Bureau is making an alternative arrangement to bring back Lankans from Egypt as hundreds of migrant workers are reaching Egypt by road.
The Bureau is ready to provide these expatriates necessary travel arrangements inclusive of free air tickets to bring them back to the country.
Courtesy: Government News Portal
Latest Headlines in Sri Lanka