Sri Lanka targeting five per cent growth and single digit inflation
Posted by Editor on September 29, 2016 - 7:18 am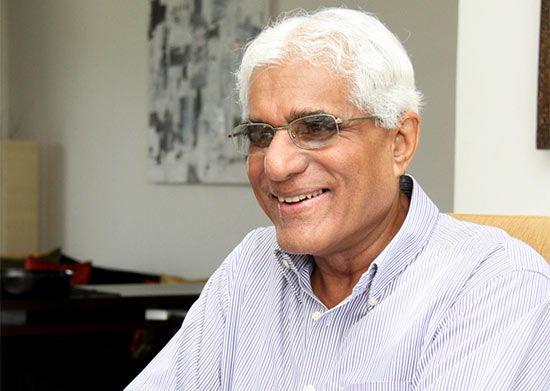 Central Bank Governor Dr. Indrajit Coomaraswamy said the government intends to keep the economic growth at five percent and inflation at single digits to maintain economic stability.
"In the second quarter of 2016 the economic growth registered 2.6 percent due to floods and drought conditions of that period and we see a pick up in the third and fourth quarters of the year. The second quarter growth did not go down to expected levels because of credit growth, low level inflation, increase of growth in the construction sector and the availability of electricity for the industrial sector, the Central Bank Governor told a media conference held at the Central Bank auditorium yesterday.
He said the monetary policy improved in the second quarter of 2016, with the Central Bank ending its policy of monetizing large volumes of debt to keep markets short of cash instead of flushed in excess liquidity.
In the second quarter Sri Lanka was estimated to have grown by 2.6 percent, with agriculture contracting 5.6 percent due to bad weather. But services grew 4.9 percent and industry grew 2.2 percent, he said.
The CB Head acknowledged that the April – June GDP growth slowed compared to last year but said that it was basically due to several factors, including the drought and floods, which affected large parts of the country. Sri Lanka is in a stabilizing period and will be able to achieve its target by the end of the year, the Governor added.
"The Central Bank believes there is sufficient space for economic growth in the current monetary policy stance, he said.
The Governor said that if Sri Lanka is to improve its economy, it has to sign bilateral trade and investment agreements with China, South Korea, Singapore and Japan. "Because those countries developed due to an increase of exports and foreign direct investment, he said.
Coomaraswamy said that interest rates were kept unchanged since the Monetary Board took the view that the current policy is sufficient to maintain the balance in macro-economic activity while facilitating economic activity.
He also expressed confidence that Sri Lanka will be able to reach its goal of 5 percent growth and single digit inflation by end of this year.
Coomaraswamy said that the interest rate policy of the US Federal Reserve could have temporary effects on the world market but said that these effects will not be disruptive in the long run.
"Sri Lanka is now recovering from a balance of payments crisis, triggered by an excessively loose monetary policy, as large volumes of money were printed to finance a budget gap in 2015 and to keep markets flushed with excess liquidity of about 20 percent of the money base, he said.
"The expansion in monetary aggregates was mainly driven by credit flows to the private sector and to the government from the banking system, while credit to public corporations continued to contract during the month, Coomaraswamy added.
(Source: The Island)
Latest Headlines in Sri Lanka