Trilingual program will make nation great
Posted by Editor on January 22, 2012 - 7:31 am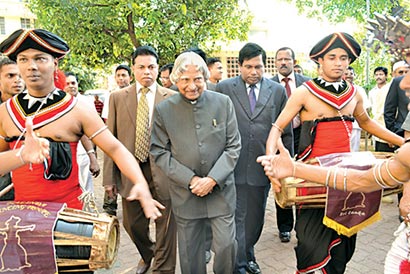 Sri Lanka will use the program for a trilingual Sri Lanka to make the nation great, India's former President Dr. Abdul Kalam said.
Dr. Kalam arrived in Sri Lanka on Friday to participate in the launch of the Trilingual Sri Lanka initiative program launched yesterday.
2012 has been declared as the year of Trilingual Sri Lanka.
The objective of the program is to create a harmonious nation and a dignified society fluent in the three languages, Sinhala, Tamil and English.
The ten-year program for a Trilingual Sri Lanka project was launched by the Presidential Secretariat in association with the Ministries of National Languages and Social Integration, Public Administration and Home Affairs, Higher Education and Education.
Dr. Kalam said that languages have an important role in connecting people's minds, articulate the aspirations of the people and shape the dreams of a nation. Learning in one's mother tongue is quite natural. However, learning other languages and a link language would create harmony of thought and this could lead to a prosperous and peaceful society, he said.
Dr. Kalam delivered a talk on 'Ignited Minds of Youth is a Great Resource for Nation" at the Bandaranaike Centre for International Studies yesterday, organised by BCIS.
Courtesy: Sunday Observer
Latest Headlines in Sri Lanka